StoVentec
The StoVentec ventilated facade system with integrated insulation keeps all design options open – including particularly dark, curved render surfaces (e.g. black) and particularly hard, impermeable finishing layers (such as glass mosaic).
It also makes renovation feasible even in apparently hopeless cases, without having to forego the aesthetic merits of a seamless surface finish. Unstable, cracked substrates or even serious cases of moisture penetration can be renovated in in a sustainable manner. The flexible sub-construction means that StoVentec is able to compensate any degree of unevenness. As a result of the system's ventilated design, moisture from the wall is discharged with the rising air. This offers permanent protection for the masonry and insulation, keeping them dry and in good working order. The multiple-layered structure is also conducive to enhanced sound protection.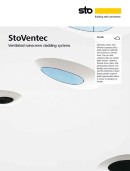 Download the StoVentec Ventilated Rainscreen Cladding Systems brochure for system information, highlights and inspiration.
Download PDF | 2.1 MB
Contact Sto
Please contact us if you have any questions or enquiries about Sto products, systems and services.


Harris International
Consultant for Sto Group GCC region
Call: +971 58 296 0404