StoSignature interior
Designing surfaces: beautiful walls and ceilings
Each room is as unique as the people who occupy it. Building owners and occupants recognise that functional room planning in a healthy environment is as much a priority as decorative aspects. Combining these criteria as efficiently as possible requires a carefully devised overall concept.

Textures + Effects = Endless Possibilities. StoSignature is a unique system of cement free renders. By mixing different textures with effects you can create anything from a concrete look to stone.

The methodology behind StoSignature is simple -start with a texture, either a single product or combination of products, tools or techniques, choose either a colour within the material or as a coating to provide either a sheen or glaze appearance, and finally add a variety of effect particles into the moist finish.



Loft
Metal 30: Rust-colored metal effect glazes on spotted fine plaster

Products used:
StoDecolit MP, colour 32241
StoColor Metallic

Atelier
Spotted mesh

products used:
StoTex Classic 215S
StoLook Struktur F
StoDecolit MP

Atelier
products used:
StoTap Infintiy
StoColor Opticryl Gloss

Country House
products used:
StoLevell Calce FS
Terrazzo Sand
StoCalce Grossa

Country House
products used:
StoCalce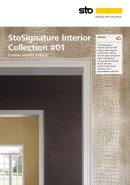 StoSignature Interior Collection #01
Creative interior surfaces