Interior paints
The right solution for every wall
Sto interior paints offer a large selection of innovative and highly environmentally friendly products to meet every requirement.

A huge colour shade variety
From simple white to on-trend pink, the StoColor System encompasses 800 different colour shades and shades of grey. As if that weren't enough, Sto's Stühlingen headquarters are home to the formulations for several million colour shades that are available to take advantage of – in some cases even decades after they were first used.

Maximum functional diversity
Sto interior paints also create the ideal results for whatever performance feature they are designed to provide – whether they're quick to apply, easy to clean, or made for people with sensitivities, or whether they provide isolation, mould and mildew protection, or resistance to surface disinfectants. Among the highlights of the range is StoColor Climasan – the first interior paint to actively purify inside air under ordinary interior light conditions, completely without sunlight.

Limited tintability
This piece of information means that the paint in question is generally only available in pastel colour shades. The range of colour shades available may be restricted due to factors including the base of a paint (i. e. there is a limit on how much pigment can be added), the binding agent (in the case of silicate paints or high pH values, for instance), and / or pigments (as is the case with StoColor Climasan photocatalysis).

Unlimited tintability
This piece of information indicates that the paint has the maximum colour shade variety. RAL colour shades are available in addition to the 800 colour shades in the StoColor System. Moreover, customised colour shades can be tinted to match the samples supplied (materials, tiles, or carpet, for example), and any colour shade used in competitor products can be produced.

The cleanest range on the market
Sto is all about building with conscience. It stands for proven quality and consistently upholding the very best environmental standards. Our resourcefriendly dispersion silicate products consist of more than 95 % renewable raw materials. We easily meet the criteria stipulated by even the strictest standards and guidelines. Virtually all of our interior paints are also TÜV-certified – which means that they are guaranteed to be free from solvents and low-emission. They also meet the criteria of standard EN 71/3, which means that they could even theoretically be used in the process of manufacturing children's toys. All this makes our products a safe choice in every respect.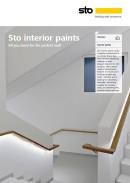 All you need for the perfect wall. Sto interior paints.
Sto interior paints | 1.2 MB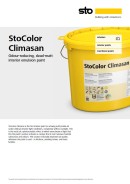 StoColor Climasan is the first interior paint to actively purify inside air under ordinary interior light conditions, completely without sunlight. This is the result of a photocatalytic effect which creates noticeably improved air quality wherever the paint is used – in kitchens, smoking rooms, and more besides.
Product leaflet: StoColor Climasan | 148 kB