StoSilent Modular
StoSilent Modular ceiling elements are the ideal solution in rooms where suspended or directly bonded systems cannot be installed or where acoustics need to be optimised when the room is already in use. The modules are designed to add avisual accent to the space. We offer a wide range of materials, colours, shapes, and integrated lighting elements, opening up a whole spectrum of design options.

The acoustic elements are available in three different materials. Depending on the design concept, we can supply rectangular, round, or free-form shapes in a variety of different dimensions. We deliver the StoSilent Modular systems as finished acoustic elements, including the load-bearing construction, carrier profiles, and finish.


System advantages
Wide range of surfaces and colour design
Quick to install and remove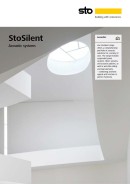 Download the Sto Acoustic Systems brochure for system information, highlights and inspiration.
Download brochure | 1.5 MB
Contact Sto
Please contact us if you have any questions or enquiries about Sto products, systems and services.


Harris International
Consultant for Sto Group GCC region
Call: +971 58 296 0404