StoSilent Compact Plaster Systems
The StoSilent Compact acoustic plaster system is the perfect acoustic solution for rooms that are not suitable for suspended acoustic systems. We offer two solutions: StoSilent Compact Miral and StoSilent Compact Sil. Both are designed to enable you to quickly achieve a seamless, homogenous surface and are just as easy to apply as conventional plaster.

The systems are ideal for barrel vaults or other multi-dimensional curved surfaces. The solution was perfect for the fully renovated "Bodega La Vieja" winery in the Spanish town of Puerto de Santamaría. To optimise the acoustics of the sophisticated wine bar, the church-like arched ceiling was coated with StoSilent Compact Sil acoustic plaster and finished with StoSilent Decor. The character of the space was fully preserved during the renovation.


System advantages
Coating on curves and spherical surfaces possible
Suitable for nearly all types of room
Alternative to suspended or mounted systems (e.g. in listed buildings)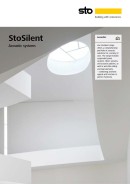 Download the Sto Acoustic Systems brochure for system information, highlights and inspiration.
Download brochure | 1.5 MB
Contact Sto
Please contact us if you have any questions or enquiries about Sto products, systems and services.


Harris International
Consultant for Sto Group GCC region
Call: +971 58 296 0404